Interviews: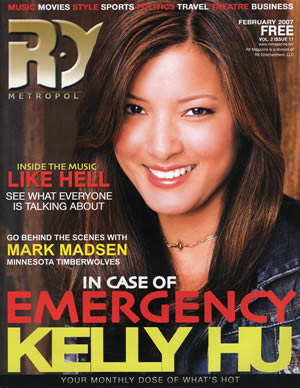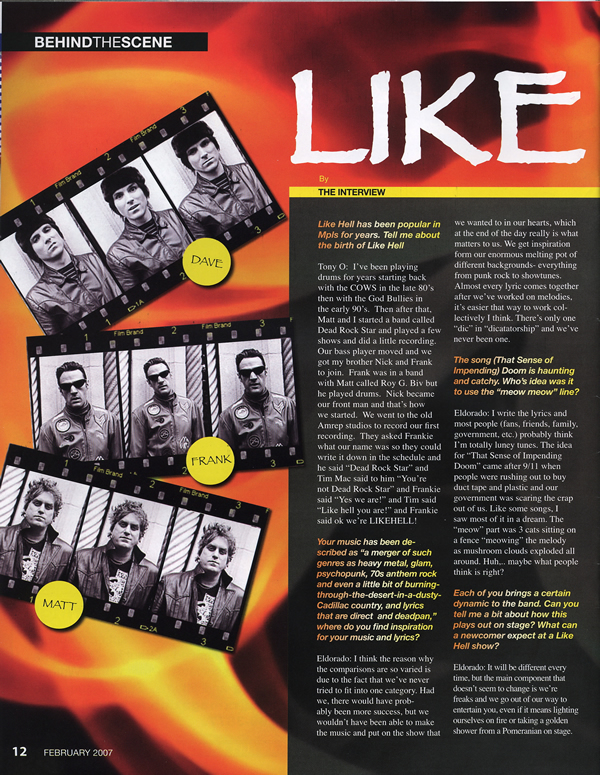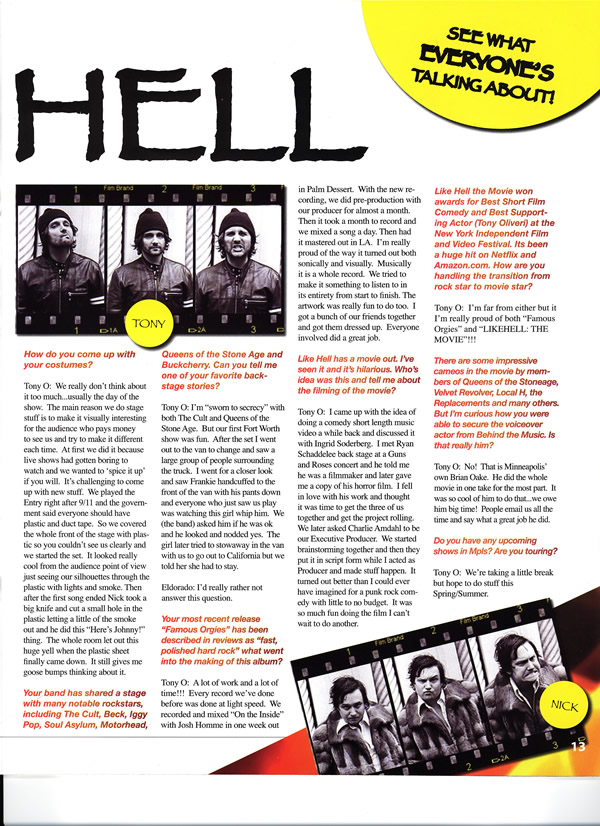 PULSE: What sequence of events led you to the Twin/Tone label?
LH: We signed to Spanish Fly Records (Lori Barbero's label), a Twin/Tone affiliate. We quickly began recording as well as touring extensively. While on the label we recorded two full-lengths (Love American Style and Snowball's Chance), the Purplemotorcyclecrashmonster 7" and did two videos.
PULSE: Tell us a bit about your new label, Rekords Rekords.
LH: Rekords Rekords (http://www.rekordsrekords.com) is distributing the recordings that Twin/Tone doesn't own and managing the re-release of On The Inside later this month. It's a new label with great bands... They also carry the Dessert Sessions, including 7/8, which has two tracks with lead vocals by Nick [Eldorado]. The album also features performances by Mark Lanegan (Screaming Trees), Samantha Malooney (Hole, Motley Crue), Alain Johannes (The Chris Cornell Band) as well as Josh and Brendon from Queens Of The Stone Age (Q.O.T.S.A.).
PULSE: What happened with Nick Oliveri from Q.O.T.S.A. pitching up on stage at your Fine Line gig?
LH: He and Josh sang backing vocals on the recorded version of the song we were playing (I'm %@!#$&ed Up). Nick [Eldorado] flipped him off... Then, with a cigarette in one hand and a beer in the other, he jumped up on stage and just wailed, like an hour before their set at the Quest!
PULSE: You've been on several national tours. Which was the craziest and why?
LH: The craziest had to be the last tour we did with Q.O.T.S.A.! There was very rarely a moment when something really wrong wasn't happening...
PULSE: Explain The Cult connection, as well as how you felt about life on the road with them.
LH: Matt Sorum was a fan of ours and asked us to go on tour with The Cult. They were on an arena tour with Aerosmith, which had shows every four days or so. They filled in all the other days with their own theater tour, which we supported. They were great to work with... Everyone from their bus drivers, semi drivers to Ian and Billy were cool. Ian and Nick quickly hit it off, with Ian sharing years of advice and knowledge. Probably the weirdest show was at the House of Blues in Disney World. The marquee said it all: "The Cult with LIKEHELL"!
PULSE: Walt must have turned over in his grave, or rather his cryro chamber... Which other cities did you play?
LH: We played with The Cult in New York, Atlanta, Myrtle Beach, a bunch of Florida dates, New Orleans and several Midwest dates ending with the HOB in Chicago. All in all it was three weeks of shows.
PULSE: In November, you became a five piece. Who's the new kid on the block?
LH: That's Matt—Matt Caflisch, formerly of Uberscenester. Along with Matt (Bockley), he handles guitars and backing vocals.
PULSE: You all flew out to Los Angeles last year to record tracks for a new release. Who did you work with?
LH: We recorded at Matt Sorum's place (Viking Studios). We laid down four new songs: Sorum and Lanny Cordola were the producers. We have guest appearances by Josh Homme and Nick Oliveri (Q.O.T.S.A.), Joey Santiago (Pixies), Dave Catching (Earthlings), Duff Mckagen (Guns & Roses) as well as Sorum.
PULSE: Have you decided on a working title for the upcoming album?
LH: Yes, but we've been advised not to say yet due to the fact that we haven't formalized who will be releasing it. What we can tell you that's pretty top secret is that we just finished up one of the singles. It's called "Lonely By Design" and it was done here at Master Mix with Matt Kirkwold and James Harley. At the moment, though, we're focusing on the re-issue of On The Inside with Rekords Rekords.
PULSE: What's the street date on that?
LH: January 15th, 2003. You can find it on line at rekordsrekords.com!
PULSE: Cool. Alright, I really have to know... who came up with the concept for Wrestle LIKEHELL?
LH: Wrestle LIKEHELL was created by Tony Oliveri and ex-professional wrestler Bill (Blaze) Borea.
PULSE: Also, a wild rumor has been circulating that skate entrepreneur Tony Hawk has been playing LIKEHELL on his tour bus. True or false?
LH: Weirdly enough, true. About three weeks ago at like 5:45 a.m., I woke up hearing "Land Of Gold" playing in behind-the-scenes footage on ESPN2, confirming the said allegation to be accurate!
PULSE: You recently played a series of engagements in L.A. Any wild tales to report?
LH: We had two shows—at Spaceland and at the Viper Room—that were really fun. We ran into Slash... That was cool. We basically got to hang out with all of our L.A. friends.
PULSE: After coming home, Tony played a cameo with the Suburbs at First Avenue Night Club. How did the 'Burbs manage to kidnap your drummer?
LH: They were sharing our rehearsal space to get ready for that week of shows... It was awesome to be an honorary Suburb for a day!
PULSE: Let me ask you guys this; you've definitely been doing it long enough. To make an impact on a local level, what attributes do you think are key to a working band?
LH: Book shows and then play them, as many as possible. Work hard on promoting your band!!!
PULSE: Any other words of wisdom?
LH: This business is really difficult, especially when you're trying to give people something different. It's really the love and support of our fans that gives us the incentive as well as strength to keep fighting. You have to work for it, for them.
PULSE: Totally. OK, it's time for THE FREAK QUESTION! Fast forward to 2009...The digital revolution has taken over entirely. Mp3 players are in nearly every car as well as home and virtual rock stars have become the "IT" thing (think Gibson's Idoru). Producers are the only human component left in the mainstream music industry. In this corporate bits and bytes nightmare, where is LIKEHELL and what are they doing?
LH: We'll be down in Cabo drinking Tequila with Sammy Hagar... Maybe a little musical theater?!
Somehow, musical theater feels exceedingly appropriate for Eldorado's signature psycho-glam storytelling. But then again, Cabo with Hagar would work just as well for the band that never seems to blink.
All things considered, you'd be surprised how far a good old-fashioned work ethic and a little humility can take you in Rock-n-Roll. Add a contagious sense of humor, obsessive recording as well as touring, a bit of hard earned luck and we arrive at the total sum.Cities music fans sleep safely and America, WATCH OUT!!! LIKEHELL is on the inside, helping to define the sound as well as structure of the second wave.